Pet Grooming at Ark Animal Hospital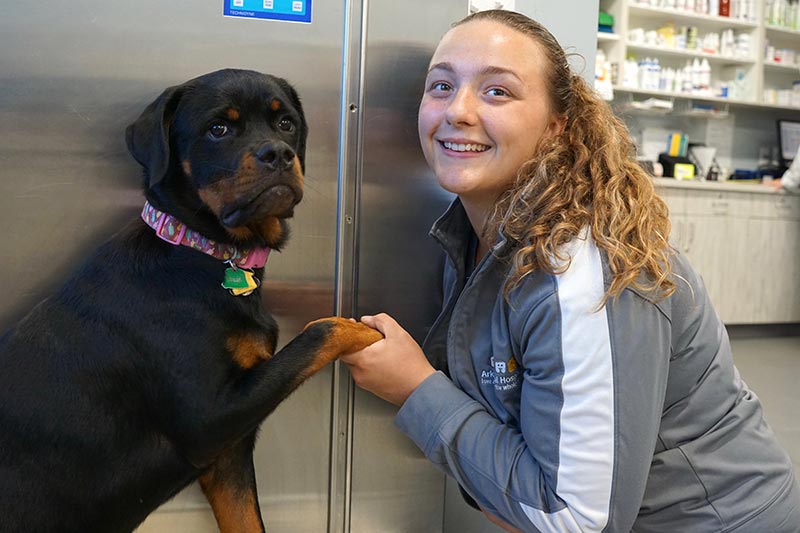 Grooming is an important part of your pet's routine care and we are proud to announce we have a variety of grooming services to help keep them looking and feeling their best. Ark Animal Hospital is now offering grooming services for dogs by our experienced and compassionate Technician, Jasmine.
Benefits of Grooming
Grooming maintains your pet's healthy skin and coat.
Regular nail trims keep nails short and help to reinforce healthy paw structure and posture.
Routine visits may result in early detection of issues with ears, skin, teeth and more.
Your pet will look and smell great!
Grooming Services Offered
We proudly offer a full range of pet grooming services for dogs. Every grooming service is tailored to the unique needs of each individual pet, and we always prioritize your pet's comfort and safety during our grooming services. The grooming services available are:
Basic bath and blow dry only
Deluxe bath with blow dry, nail trim and ear cleaning
Haircuts including full clipping, simple tidy ups and puppy cuts
Sanitary Trims
Deshedding
Matted Brushing
Medicated Baths
Sedated Grooming
Nail trims and ear cleanings can be added to any service upon request
These services also include a perfume finish, bows, or a bandana.
**Prices vary depending on your pet's breed, coat and size.**
Safety and Comfort
To provide a safe and healthy environment, we require any pets that come in for grooming to be current on the following vaccines:
Dogs: Bordatella, DA2PP, Rabies
Does your pet get nervous coming into the hospital? Give us a call to discuss, as we have multiple options to help relieve any anxiety your pet may have coming into the hospital. We want to provide the least stressful experience possible for your pet.
Our ultimate goal is to make your pet happy, healthy, and comfortable from head to tail. Give us a call to schedule your pet's grooming appointment today!