Owners
Lauren

Owner/Hospital Administrator
Lauren grew up in a veterinary hospital—her family owns the Ark Animal Hospital business. She couldn't help but fall in love with the veterinary profession, and now she serves as the Practice Manager!
Lauren was born in Boston, Massachusetts. When she was old enough, she started working in her parents' vet hospitals, then worked as a receptionist through high school. After graduating, Lauren attended Temple University to study tourism and hospitality management, securing a business minor at the same time. Upon receiving her degree, Lauren took on even more responsibilities by becoming the Practice Manager.
Interacting with pet owners and building lasting relationships is Lauren's favorite part of her day. She's extremely proud of the amount of compassion in her family's business; in fact, she and her coworkers strive to treat every patient and client as a member of their own family!
Lauren's dog Phoebe is a Chihuahua/dachshund mix who defies her small stature with her huge personality. Phoebe can often be seen roaming the clinic corridors and greeting clients.
When she isn't working, Lauren enjoys cooking, traveling, and spending time with family and friends.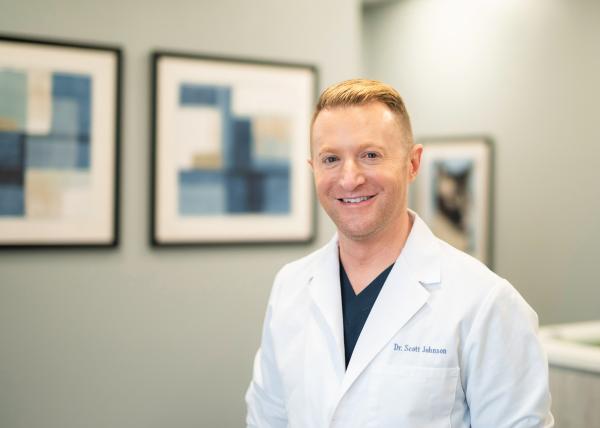 Dr. Scott Johnson

Owner/Medical Director
As the son of two veterinarians, the animal care world was always a part of Dr. Scott Johnson's life. He saw personally how much joy the profession brought to his parents, and his interest in science and medicine only encouraged him further! Now Dr. Johnson serves as the medical director in the family practice.
Dr. Johnson was born in Boston. He completed his undergraduate studies in biology at Bucknell University in 2004, and then moved to Philadelphia to earn his VMD degree from the University of Pennsylvania. In 2008, he joined the team at Ark Animal Hospital as a full-time veterinarian. Now in 2021, Dr. Johnson is now not only Ark's medical director, but he also co-owns the hospital with his sister, Lauren.
Getting to meet all kinds of people and pets is Dr. Johnson's favorite part of his job. He's particularly fond of strengthening the bond between pet owner and animals, and his medical interests include surgery, preventative medicine, radiology, and ultrasound.
Currently, Dr. Johnson and his partner live in Doylestown with their two dogs: Greg and Patrick and their one cat: Tulip. When he has a spare moment, Dr. Johnson enjoys traveling, cooking, hiking, and spending time outdoors.
Associate Veterinarians
Dr. Scott Bertoldo

Associate Veterinarian
Dr. Scott Bertoldo grew up in Western New York and like many, was interested in a career involving animals early on. Not only were horses and family pets a part of his household growing up, but he was able to see his father work as a large animal veterinarian for several years. He completed his veterinary degree at Cornell University in 2017 and spent the first nine months in South America working as a veterinarian and learning Spanish. Upon his return to the U.S., Scott worked as a mixed animal veterinarian for two years treating dogs, cats, cows, pigs, horses, goats, and sheep. At Ark, Scott enjoys partnering with pet parents in the medical care of their animals. His primary focus is helping them understand the issues their pets may be facing so that they can feel comfortable making important medical decisions. His partner Katie is also a veterinarian, and together they have three rambunctious kitties at home - to which Scott is a proud, crazy cat dad.
Dr. Emily Seymour

Associate Veterinarian
Dr. Emily Seymour grew up in Plymouth Meeting, PA and attended the University of Pennsylvania for veterinary school. She worked for several years in San Jose, California followed by three years at a non-profit clinic in northeast Philadelphia before joining the Ark team! Her clinical interests include preventive care and wildlife medicine.
In her spare time, she enjoys hiking, birding, gardening and playing chess. She and her husband share their home with numerous animal "kids", as well as two human kids (twin girls Audrey and Maya). She speaks both English and Spanish.
Dr. Debbie Hollenbach

Associate Veterinarian
Debbie grew up in rural Pennsylvania, surrounded by wildlife, cats, dogs, chickens and Christmas trees! Following graduation from Albright College she relocated to Ohio where she got a Master's Degree in Biology from the University of Dayton and her DVM at The Ohio State University. She worked four years in private companion animal practice outside of Cincinnati before moving back to Pennsylvania.
In her more than 25 years at the Ark Animal Hospital, Debbie has seen a lot of pets and pursued different aspects of companion animal practice. For a period of time she provided house call and home euthanasia services to our clients along with working at both Ark Animal Hospital locations. She is a member of the American Association of Feline Practitioners and is certified as a Feline Friendly Veterinarian. Debbie does not limit her affections to the cats in the practice and loves her many canine patients just as much!!
In her spare time Debbie enjoys gardening, reading, hiking and is an avid scrapbooker. She has 2 grown sons ( Ricky and Jonathan) and currently shares her home with her husband and their 2 grumpy elderly cats as well as a young and energetic new cat!
Dr. Jenna Armstrong

Associate Veterinarian
Dr. Armstrong grew up in Perkiomenville and went to undergrad at Delaware Valley College, obtaining a degree in Animal Biotechnology and Conservation. Afterwards she went to the University of Missouri to receive her veterinary degree and graduated magna cum laude in 2011. Throughout undergrad and vet school she had many part time jobs that gave her a well rounded appreciation for all that goes into vet med. Dr. Armstrong traveled during her summer breaks to pursue several externships in the field of exotic animal medicine which continues to be a professional interest for her. Dr. Armstrong likes working through complex cases and thinking outside the box. She believes that through preventative care and early intervention your pet can live their best life. While not at work she enjoys spending time with her husband and children.
Dr. Debra Lane

Veterinarian/Ultrasonographer
Dr. Debra Lane graduated from the University of Pennsylvania in 1991. Dr. Lane is a skilled ultrasonographer with over 16 years of experience, who comes to Ark Animal Hospital by appointment when our patients need ultrasound services. She specializes in abdominal ultrasound. In her free time, Dr. Lane loves to travel to exotic places around the world. (Please note: Dr. Lane does not perform referral ultrasounds.)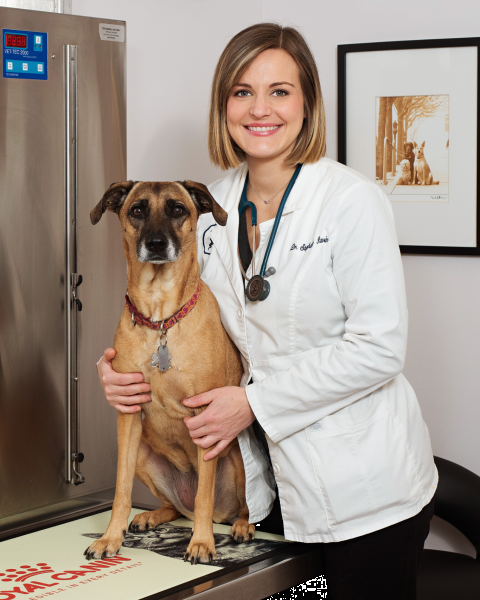 Dr. Stephanie Ravin

Associate Veterinarian
Dr. Stephanie Ravin grew up right here in Bucks County, Pennsylvania in Richboro. She attended the University of Pittsburgh for her undergraduate degree. Upon graduation in 2010, she attended her first year of veterinary school in the Caribbean at the American University of Antigua, College of Veterinary Medicine and Biological Sciences. She absolutely loved living in the warmth of the Caribbean for a year. That is also where she met her husband!
After a year in Antigua, Dr. Ravin was able to transfer to the University of Edinburgh, Royal (Dick) School of Veterinary Studies in Edinburgh, Scotland, where she finished the remaining three years of her veterinary degree. After graduation, she worked in Rochester, NY for 3 years, honing her skills in a busy, small animal practice.
Dr. Ravin thoroughly enjoys meeting new people, and their beloved pets. She also enjoys building relationships with pet owners through trust and education. She has a knack and love for dental surgery, maybe because both of her parents are dentists! She also enjoys soft tissue surgery and cardiology.
Dr. Ravin shares her home with her husband, John, who is also a veterinarian! They have two children, Stirling (4) and Beckett (2). She has a dog, Ellie, whom she adopted while living in Antigua as well as two orange cats, Daryl and Doodle.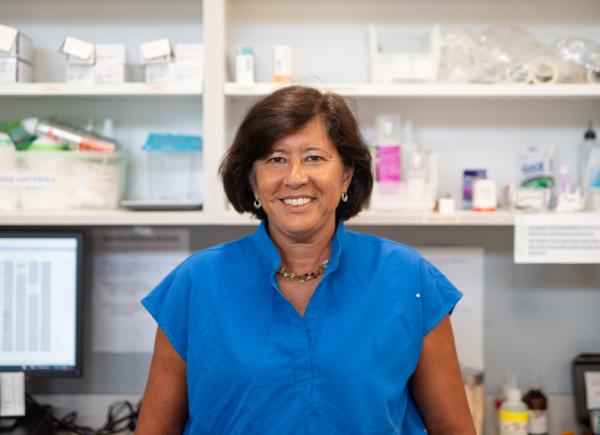 Dr. Stefanie Lin

Associate Veterinarian
Dr. Lin graduated from Bucknell University and the University of Pennsylvania School of Veterinary Medicine ('92). She completed an internship in small animal medicine and surgery at Penn, and practiced veterinary medicine in Bucks County for 27 years before joining the team at Ark Animal Hospital.
Dr. Lin enjoys all aspects of canine and feline medicine, but has a special interest in soft tissue surgery. She enjoys meeting new patients and their caregivers, and looks forward to establishing long term relationships.
A longtime resident of Doylestown, Dr Lin and her husband Andy have a daughter, Avery and son, Drew. They share their home with dogs Ivy ( 14yrs) and Sunny ( 3 yrs) and cat Shadow (15 yrs). Sunny is a Potcake rescue from the Caribbean island of Anguilla. Dr Lin also enjoys horseback riding , gardening, skiing and spending time at the beach in Cape May.
Dr. Tia Camarata

Associate Veterinarian
A Montgomery County native, Dr. Camarata attended Albright College for her B.S. in Biology where she researched viruses, caught bats in the Costa Rican jungle, and completed an extended zoo keeping internship at the Lehigh Valley Zoo. Most recently, she was living in Scotland while attending veterinary school at the University of Edinburgh's Royal (Dick) School of Veterinary Studies. She made sure to make the most of living in the UK by traveling as much as she could. But there's always a growing bucket list of places to visit! Dr Camarata's animal experience in vet school ranged from managing a flock of 1000 sheep during lambing season in Wales to anesthetizing a baboon at the Edinburgh Zoo, giving her an even stronger appreciation for all creatures great and small.
During her final year of vet school, she shadowed at Ark Animal Hospital and was instantly impressed by the dedicated staff and family-centric work environment. While she enjoyed her time abroad, she made the decision to return stateside to be closer to her family and start her career at the practice that had left such a positive impression on her as a student. She currently resides at her childhood home with her family, their cat Beatrice, and her growing collection of houseplants.
Office Manager
Amanda

Front Office Manager
Amanda was born and raised in Montgomery County, Pennsylvania and grew up with a variety of pets. When she was ten years old, she shadowed her family's veterinarian in order to earn her Pet Care badge in Girl Scouts; she knew that day, after witnessing the veterinary team's care and professional drive that her future was in pet care and that working in an animal hospital was where she needed to be!
As she got older and worked on her skills such as leadership she learned she likes to help humans just as much as animals! Then after working in a kennel for five years, Amanda knew she wanted to work in the veterinary field and made the leap! She joined Ark Animal Hospital in 2016 as a receptionist, primarily working in the Souderton office, where she developed many relationships with patients,families and the community. Amanda has recently joined the Chalfont team and looks forward to developing the same close relationships with the team and patients here! During her free time Amanda enjoys walks with husband and their dog Molly, caring for her spoiled hermit crabs, photography, reading and swimming! Amanda has a strong interest in learning and utilizing her leadership skills, you can often find her listening to podcasts or reading articles to help educate herself on the topics near and dear to her heart.
Client Care Representatives
Chelsea

Client Care Representative
Chelsea grew up with plenty of cats and dogs, and always knew in her gut that she was meant for a career in animal care. She was the neighborhood pet sitter and volunteered at the Pennsylvania SPCA for a few years.
Born in Philadelphia, Chelsea was raised in Warminster with her parents and two brothers. After working in customer service for six years, she decided to pursue her dreams and graduated from Delaware Valley University with a Bachelor's degree in Small Animal Science. In those short four years, she worked at a local kennel as a receptionist/ kennel technician.
Chelsea feels incredibly fortunate to tend to the needs of pets and animal owner's every day. Her favorite part of the work day is talking with pet owners and witnessing the fascinating bonds between humans and animals.
At home, Chelsea has two dogs: Roxy and Marco, and two cats: Mickey and Emmi. In her time away from work Chelsea enjoys hiking, going to the beach, shopping, and spending time with family and friends.
Megan

Client Care Representative
Although she'd always been an animal lover, Megan never considered working in the veterinary field until she brought her new puppy, Tucker, into the Ark Animal Hospital of Chalfont. When she saw how clean the clinic was and how enthusiastic and vibrant the employees were, she decided to ask if the hospital was hiring! Megan joined Ark Animal Hospital in 2005.
Watching a puppy or kitten grow up over the years is one of Megan's favorite things that she gets to do around the clinic. She's also fond of getting to know clientele and their pets on a personal level.
Megan lives in Montgomery Township with her husband Tim and their two boys, Trevor and Derek. Outside of work, Megan spends a lot of time cheering on her sons' at their sporting events. She also enjoys walking her dog Lottie, trying out new restaurants, shopping or escaping to the family mountain house to spend time with family and friends.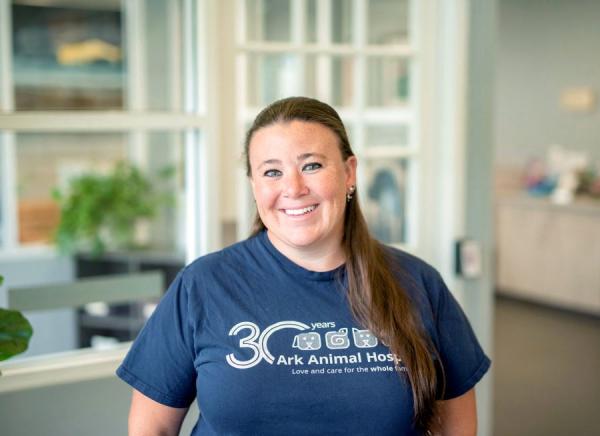 Nicole

Client Care Representative
A Connecticut native, Nicole and her family moved to Pennsylvania in 2019. Nicole has a Bachelor's degree in Communication from Western Connecticut University. Her love of animals led her to pursue a career in the veterinary field. Nicole has been a veterinary receptionist for almost 15 years. She enjoys interacting with the clients but most importantly loves getting smooches from all the fur babies. Nicole resides in Chalfont with her husband Colby, and their son and daughter. They have a yellow lab named Noeki who loves to play and swim. In Nicole's spare time she likes to spend time with her family, read, garden, and spend time at the beach.
Kierra

Client Care Representative
Kierra was raised in Philadelphia, and since she was a little girl she's always had a passion for animals. Kierra has been working at Ark for since 2021 as one of our client services representatives, and plans to eventually expand her career in the office as one of our veterinary assistants when the opportunity arises. Kierra spends her free time in her loft apartment in Philadelphia with her partner Caleb and their three cats, Rocco, Marlee and Spooky. She enjoys listening to music loudly, going to the beach and is one of the faces behind Ark's social media. Whether you know Kierra by name, or by her favorite nickname 'the girl with the blue hair', she is always ready and excited to help take care of all of our clients.
Kelly O.

Client Care Representative
Since bringing home their first puppy in 1999, Kelly and her husband Brian have been a part of the Ark Animal Family as clients. After spending the majority of her working life in the financial industry Kelly was ready for a change. Being a huge animal lover when she saw a post for an opening at Ark she jumped at the chance to apply. Kelly has always had a love for animals of all kinds, but particularly dogs. She spent 3 years as a part time dog trainer for Petco. Kelly currently resides in Chalfont with her husband Brian, their new puppy Jalen and their 2 cats, Stache & Jinx. Kelly enjoys talking to the clients about their pets as well as sharing her own pets' stories. When not at work you can always find her playing or snuggling with her fur babies.
Daena

Client Care Representative
Daena, an Ohio native who was raised in Texas and Virginia, wound up in PA to be with her fiance Keith. During the end of life care with one of her beloved pets; Daena realized the amount of love and support that goes into the field, she became a vet assistant for a clinic in Virginia until she decided to work for Ark as a client care representative alongside her brother in-law Evan.
One day she hopes to become a veterinarian to continue to help pets and their parents, the same way one did for her long ago. Daena spends her free time testing her culinary abilities, watching Harry Potter with her 2 cats Smokey, Cinder and Beagle/Lab mix Ash. Currently Daena is pursuing Manor College to become a CVT with the hopes to move on to vet school afterwards.
Veterinary Technicians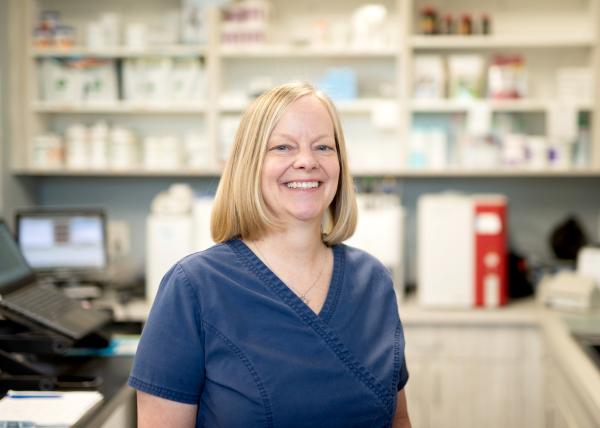 Lori V

Certified Veterinary Technician
Ever since she can remember, Lori has had a desire to work with animals. Once she discovered that she could help both pets and people through a career in the veterinary field, her mind was made up!
Lori is a Pennsylvania native. After working for a local kennel, she attended Harcum Junior College to receive her Associate's degree from the Veterinary Technician program. She joined the Ark Animal Hospital team in 2006.
At home, Lori and her two sons share their home with a Pug/Chihuahua mix named Zacchaeus and a domestic shorthair named Esther. When she isn't at work she enjoys spending time with her family and friends.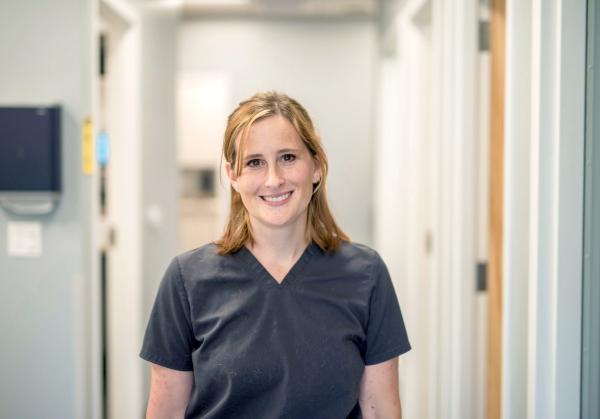 Kim

Licensed Veterinary Technician
Kim has been living and working in the veterinary field for 12 years, and earned her certified vet tech license in 2012. She attended Arcadia University and Manor College (vet tech program). She has been an employee at Ark for over 11 years and knows it is her home.
Kim has always been an animal lover, preferring to play with toads and snakes as a kid rather than barbies and dolls. She loves working with exotic animals, especially birds. She also has a special place in her heart for Chihuahuas, even the angry ones. In her spare time Kim loves to bake and spend time outside. Her furry family consists of 2 cats; Mateo and Moo and one very spoiled Chihuahua Scampy. Scampy goes to work with Kim every day and gets excited when she hears the word "work".
Chris

Certified Veterinary Technician
Chris is a Pennsylvania native who grew up in the Lehigh Valley and is now residing in Quakertown Pa. She is a 2001 Graduate from Northampton Community College with her degree in Veterinary Technology. She has worked at Ark Animal Hospital for 11+ years and loves getting to know the clients and pets. Her love for the field extends back to her youth where she would assist the Veterinarian with her tiny barn kittens. Growing up in the country allowed her many opportunities to spend time with her family's and friend's farm animals. She shares her home with Hannah, a lab lurcher mix and Payton, a lab pitbull mix. Although small animal practice is her career, she has a flock of chickens that she raises with her 2 boys, Aidan and Joshua and helps care for Joshua's retired therapy horse Patches. In her spare time, she is the artist of Beach Dreamer Creations which allows her to express herself and her love of the beach. Chris loves to spend time traveling and having new experiences with her children and other half Jeff.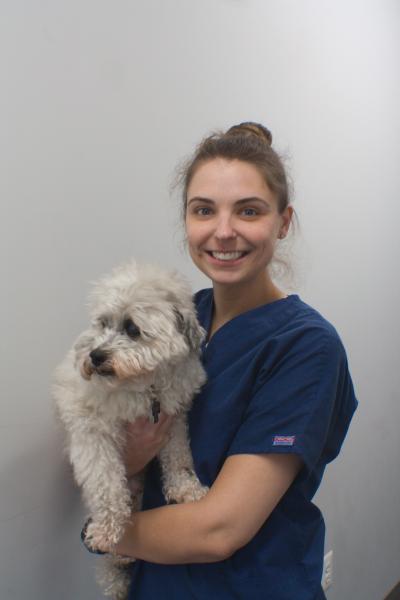 Alexandra

Certified Veterinary Technician
Alexandra has worked in the veterinary field for about 10 years. During this time she has worked in both emergency and general practice. Her favorite patients are senior pets, she has two oldies at home- a bichon/poodle named Milo and a persian cat named Samir.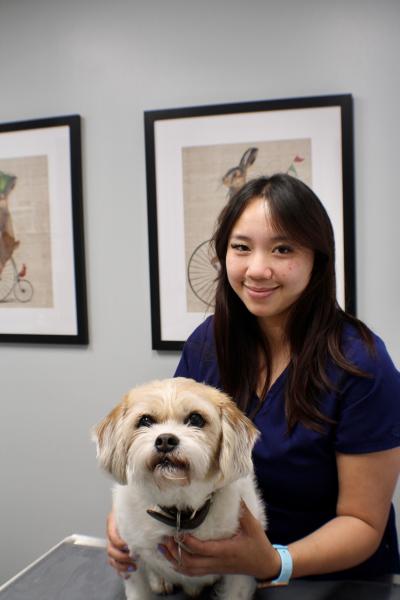 Kat

Certified Veterinary Technician
At 26 years old, Kat is a graduate from Manor college and is one of our Certified Veterinary Technicians. Kat was born in New York, and moved to Pennsylvania 8 years ago in 2014. Kat currently resides in Lansdale with her boyfriend Ian and their 3 crazy pets: a dog Nala who is about 8 months old, and their two cats, Obi Wan Katnobi and Rey Meowpatine, who are both 5 years old! When Kat is not here in appointments or helping out in the surgical center, Kat enjoys hiking, having picnics on her hikes, and she loves to paint!
Christina

Certified Veterinary Technician
Christina originally grew up in New York but then moved to PA after attending Chestnut Hill College where she studied History and Criminal Justice. Christina taught elementary school and Pre-K readiness for almost ten years after graduating. After ten years of teaching Christina went back to school to become a Certified Veterinary Technician. She attended Manor College part-time for four years and graduated in December of 2021. While in school she worked as an assistant at a veterinary hospital in Newtown, PA. She then started working in the Neurology service in an emergency facility before joining us in February 2022. Christina lives with her husband and her black lab named Molly who is nine! She adopted her from a local rescue at the age of seven and loves her to pieces! She also enjoys reading and spending time with friends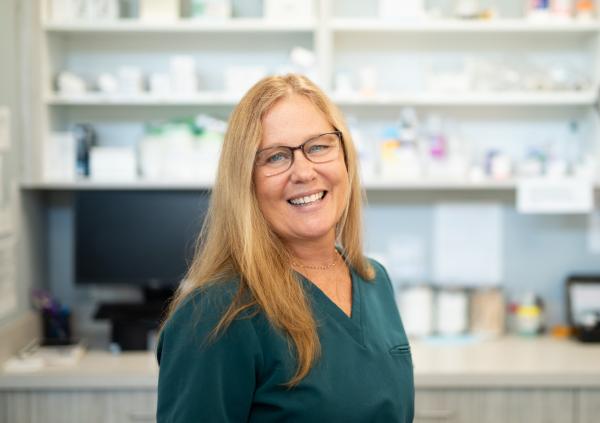 Lori H

Veterinary Technician
Lori has been working in the veterinary industry since 1985. In October of 1996, she joined the Ark Animal Hospital team, and has been here ever since!
Lori is a graduate of Temple University. She has two kids, Dean and Margo, as well as three dogs named Dottie, Daisy, and Poppy and a cat named Dash.
In her free time, Lori enjoys spending time at the beach, hiking, practicing yoga, listening to music, and reading.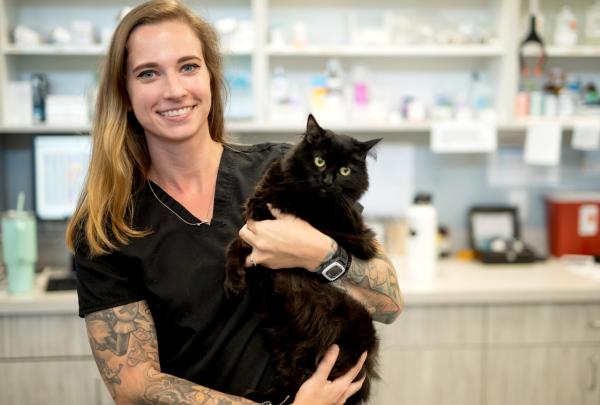 Nikki

Veterinary Technician/Lab Technician
Nikki has been interested in animals all her life. Growing up in the suburbs of North Wales, Pennsylvania she was always the one taking care of hurt wildlife or trying to make friends with all creatures. She is a graduate from Montgomery County Community College but never found what career she wanted to do until she started at a kennel. After some experience at a doggie daycare, Nikki found her way to Ark when her bearded dragon was sick and was interested in vet med immediately. The exotic pets are what drew her in but fell in love with the dogs and cats she has met along the way. Nikki has been at Ark since 2016 and during that time, her interests has grown into working in the laboratory. Today Nikki spends most of her days at Ark running all of our diagnostic equipment and checking lab samples for our clients pets. In her free time she likes to travel and scuba dive, but is equally a homebody, and spends time with her two cats.
Amy

Veterinary Technician
Amy grew up in Blue Bell and has been working in a veterinary setting since 2006. She is a graduate of Delaware Valley University, with a degree in Small Animal Science. She joined the Ark Animal Hospital team in July of 2017.
Amy loves all animals, but cats are her favorite. She enjoys raising bottle feeder kittens and fostering animals. She has five cats: Smokey, Mommy, Cam, Cupcake, and Fabio. The last three are brothers who she rescued from living outdoors in Norristown.
In her free time, Amy likes to go running, play board games with friends, watch tv, and play with her cats. She also likes to travel, and would one day like to go to Madagascar to see the exotic wildlife.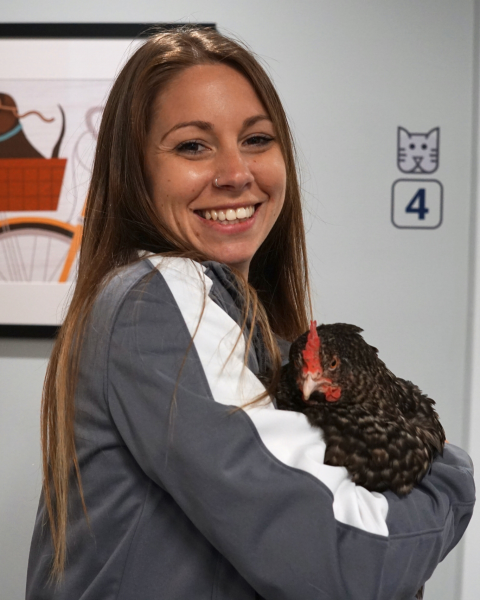 Laura

Veterinary Technician
Having spent the majority of her life in Doylestown, Laura's early life has deep roots in the veterinary field. At the small farm on which she was raised she had plenty of exposure to animals including chickens, ducks, and horses/ponies her family owned. For the majority of her youth years, Laura competed in the A-circuit small pony hunters, winning 1st place at numerous events. Along with her farm animals, she has also owned many dogs, from a Great Dane to a chihuahua, as well as cats, a bunny, and even a cockatoo. Laura's love for animals has no boundaries.
Aside from her part-time jobs handling and caring for horses, Laura first entered the small animal veterinary field in 2012. To become more proficient and develop more valuable potential, she earned her Veterinary Assistant certification in 2013. Eventually determination to progress her veterinary career led her to accepting a full-time position at Ark Animal Hospital.
Since the day she began her journey at Ark, Laura has enjoyed every minute spent at the hospital. She loves tending to the diverse needs of her patients and the unpredictability of what the next day has waiting. Lucky for her, the job requires a very hands-on involvement, so she gets to handle all the animals she cares for. Soon after joining the team, she experienced an incredible revival of her enthusiasm for veterinary care. She is thankful to be a part of such a supportive team and is delightfully optimistic and excited for her future with Ark Animal Hospital.
Veterinary Assistants
Ryan

Veterinary Assistant
Ryan has been caring for animals for the last 5 years and is just starting her new career in veterinary medicine! She is currently in her last semester of school to achieve her Veterinary Technician certification. Ryan has a senior pet Ohgee, he is a 15 year old sassy puggle. Ryan's favorite thing to do when she is not studying or working, is to go hiking. She also loves to watch Harry Potter, watching the series is actually a holiday pastime she shares with her family around Christmas time. Ryan is one of our fabulous hospital attendants, but as she progresses in her certification she will be cross trained as a technician in the future!
Tracy

Veterinary Assistant
Growing up in Ardsley, Pennsylvania, Tracy was always surrounded by her family pets. Ever since she can remember, she's gotten joy from helping an injured or sick animal and nurturing it back to health. Now, she gets to do that regularly as one of Ark Animal Hospital Veterinary Technicians! After receiving her Bachelor's degree in small animal medicine from Delaware Valley College in 1998, Tracy took a job at the Montgomery County SPCA in Conshohocken, Pennsylvania. It was there that she met Dr. Barbara Smith, original founder of Ark Animal Hospital. After taking time off to be a full-time mother, Tracy decided to get back into the workforce; she contacted Dr. Smith, who happened to be hiring veterinary technicians! Tracy has worked here at the clinic since early 2003. For Tracy, educating pet owners about proper animal care is one of the most rewarding things she does. She's also fond of watching puppies grow up and helping to provide care tips throughout their lives.Tracy and her husband, Jeff, have two boys: Connor and Brian. Their family currently shares their home with two rescue pups, Bandit and Luna, and their cat Simba.
Outside of work, Tracy enjoys gardening, doing puzzles, riding bikes and spending time with her family. Tracy also volunteers once a week at Briar Bush Nature Center doing animal care, where she cares for a skunk named Abbie, lots of snakes, insects, rats, a rabbit and a Red-Tailed Hawk named Hawkeye!
Holly

Veterinary Assistant
Holly has been a Veterinary Assistant at Ark since 2021. Holly is a Doylestown native who originally started her career as a nurse in human medicine but once she got a taste of animal care, she quickly decided that she needed to combine the two! Holly has been working in the animal care field for about 3 years, and is transitioning to start training in our surgical center to expand her knowledge even more! She also is a huge advocate for rescuing pets, to which Holly has rescued two dogs, Hunny and Kona, and one cat, Uzi. Holly spends her free time in the gym, listening to music, and likes to clear her mind by cruising around in her Jeep.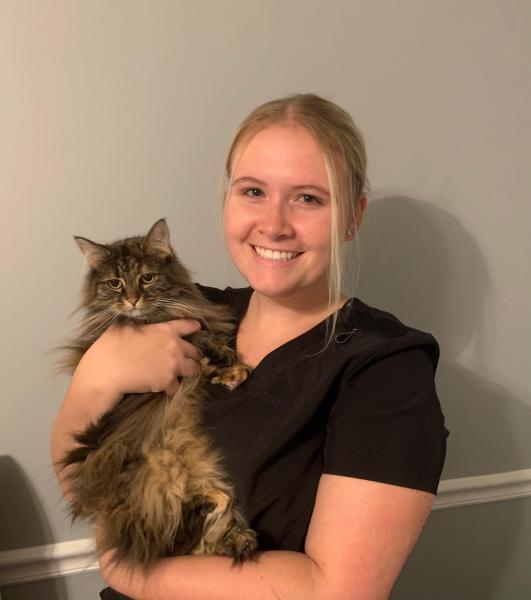 Mackenzie

Veterinary Assistant
Mackenzie grew up just down the road from Ark. She has always had a love for animals and knew from a young age that she wanted to work in the veterinary field. Mackenzie has worked at Ark for several summers and during her college breaks. In 2022, she earned a Veterinary and Biomedical Science degree from Penn State and has joined the Ark family full time after graduating. She plans to attend vet school in the future. She currently lives with her family, their two dogs Josie and Ella, and two cats Toulouse and Nittany. In her free time, she likes hanging out with her friends, reading, and listening to music. Mackenzie loves meeting and caring for all of our Ark patients and their humans.
Hospital Attendant
Sam

Hospital Attendant
Sam grew up in Lansdale, PA and always had a fascination for wildlife. He has a BFA in Animation from SVA NYC and has worked a few related creative jobs before deciding to pivot careers into something he's more passionate about. He is not entirely sure what that may be, so long as it has to do with animals. Sam is a lifelong enthusiast for all things living and has a particular interest in insects and other creepy crawlies. He is a firm advocate in protecting all the ugly animals out there! He has a cat, Laszlo, and a crested gecko, Marcy. In his free time, Sam likes to relax at home and read or play video games.
Evan

Hospital Attendant
Evan grew up in Chalfont, PA and has been surrounded by animals his entire life and has always had an interest in veterinary medicine as far as he could remember. He is a recent graduate of Delaware Valley University with a degree in Small Animal Science and is planning to attend vet school in the future. Evan currently lives at home with two dogs named Piper and Libby, a 27-year-old Senegal Parrot named Maggie, and his 13-year-old cat affectionally named Breakfast. In his free time, he enjoys taking care of and playing with all of his different pets, listening to music, reading comic books, watching movies, and playing video games with friends.
Grooming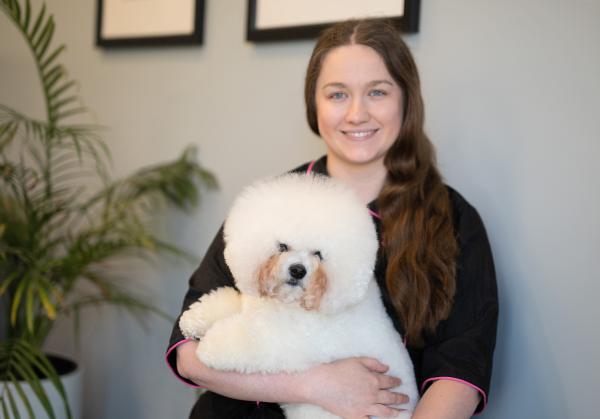 Emily & Sherman

Canine Stylist
Emily and Sherman joined Ark in January of 2021 to bring her sense of chic to the team. Emily is a Canine Stylist who takes immense pride in her skill and deep love of animals. Emily attended the Dog Grooming School of Pennsylvania, studied under several Master Groomers, and is consistently involved in continuing education to feed her passion of caring for the skin, coat, and style of her beloved clients. She currently holds certificates in Salon Sanitation, Puppy Handling, Skin and Coat Care and is working towards an Aesthetician Certification. She has aspirations of grooming competitively and certifying as a Master Groomer.
When Emily is not grooming, she enjoys keeping and breeding ornamental freshwater fish, dart frogs, isopods, micro geckos, and a vast collection of named African Violets and Orchids.
Sherman takes his role as Grooming Supervisor seriously and commits to sharing his fun loving spirit with all people and animals alike. The grooming duo is rarely seen apart!
Nick

Grooming Assistant
Nick was born and raised in Lansdale and has always loved animals. He had a Jack Russell in his childhood years as well as gerbils, guinea pigs, reptiles and fish. Nick's favorite TV programs were hosted by Jeff Corwin and Steve Irwin and he too always had the desire to spend time with animals. In 2015 Nick began working at a doggy daycare and boarding facility right in Montgomeryville and suring that time he discovered an interest in dog grooming. The precision, quality, artistry and craftsmanship was what turned an interest into a love of dog grooming. In 2018 Nick spent time at a dog grooming school gaining a foothold in the world of pet stylists. Shortly after that, he spent 4 years at a salon in Collegeville before transitioning to Ark working as a groomers assistant to further refine his skills.