Veterinarians
Dr. Barbara Smith

Owner/Veterinarian
Dr. Smith has been practicing veterinary medicine since 1978. After so many years in the veterinary profession, Dr. Smith loves it just as much as the day she started! Her real love is improving the relationship between her patients and their pet parents. The reason Ark is such a success is because our clients value the Ark philosophy that Dr. Smith has developed over the years and continues to practice every day and instill in all of her employees. Dr. Smith's compassion for her clients and the animals they love dearly is the reason the practice continues to grow and is considered to be one of the best in this area.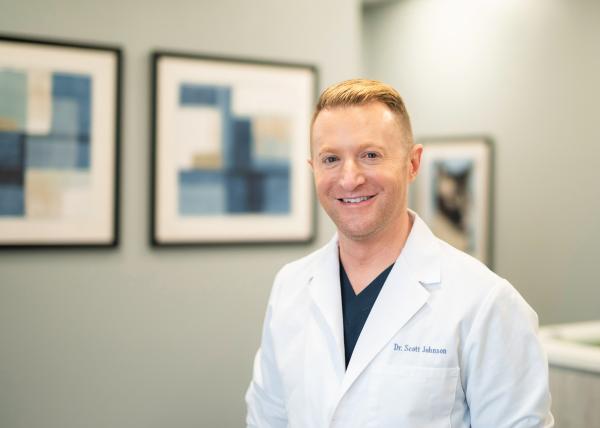 Dr. Scott Johnson

Medical Director/Veterinarian
As the son of two veterinarians, the animal care world was always a part of Dr. Scott Johnson's life. He saw personally how much joy the profession brought to his parents, and his interest in science and medicine only encouraged him further! Now Dr. Johnson serves as a veterinarian in the family practice.
Dr. Johnson was born in Boston. He completed his undergraduate studies in biology at Bucknell University in 2004, and then moved to Philadelphia to earn his VMD degree from the University of Pennsylvania. In 2008, he joined the team at Ark Animal Hospital as a full-time veterinarian.
Getting to meet all kinds of people and pets is Dr. Johnson's favorite part of his job. He's particularly fond of strengthening the bond between pet owner and animals, and his medical interests include surgery, preventative medicine, radiology, and ultrasound.
Currently, Dr. Johnson and his partner live in Doylestown with their two dogs: Greg and Patrick. When he has a spare moment, Dr. Johnson enjoys traveling, cooking, hiking, and spending time outdoors.
Associate Veterinarians
Dr. Jenna Armstrong

Associate Veterinarian
Dr. Armstrong grew up in Perkiomenville and attended Delaware Valley College in Doylestown, Pennsylvania for her undergraduate degree in Zoo Science, working at the local animal shelter at the same time. She went to the University of Missouri to receive her veterinary degree and graduated in 2011. She has been working here at Ark since then.
Exotic animal care is one of Dr. Armstrong's favorite aspects of her job. She continues to be inspired by every pet she cares for—their positivity and zeal for life is infectious!
Dr. Armstrong and her husband have a toddler-aged son, Gabriel, who is obsessed with dinosaurs and beagles, and a newborn baby girl named Edyn. The family shares their home with Becky, a miniature poodle, Lady Lumps, a cat that Dr. Armstrong found during veterinary school, and another rescued feline named Caterpillar.
In her spare time, Dr. Armstrong enjoys spending time with her children, arts and crafts, visiting thrift stores, and Zumba class.
Dr. Meghan Furey

Associate Veterinarian
Dr. Meghan Furey grew up right down the road from Ark in Lansdale, PA. After spending four glorious years at Penn State, Meghan worked for two years as a veterinary assistant, honing her skills working with animals. She went on to attend Ross University for vet school and completed her clinical year at the University of Tennessee.
While she loves traveling, Dr. Furey is thrilled to be back in the area she grew up in. Her interests include ophthalmology, physical rehab, and puppies. Her family has been raising service dogs for many years and they hold a very special place in her heart. You may see her pup, Gypsy, a service dog drop out, in the lobby greeting you.
Dr. Debbie Hollenbach

Associate Veterinarian
Early in life, Dr. Debbie Hollenbach decided that she wanted to be a veterinarian. Her love of animals, fascination with biology, and passion for education made veterinary medicine the perfect career path!
Dr. Hollenbach grew up on a small tree farm in Schuylkill County, Pennsylvania. She received her undergraduate degree in biology from Albright College, working for a small-animal veterinarian at the same time. After marrying, Dr. Hollenbach moved to Dayton with her husband and attended graduate school at the University of Dayton to receive her Master's in Biology. From there, she earned her DVM degree from Ohio State University's College of Veterinary Medicine. After working in various practices in Ohio, Dr. Hollenbach moved to Hatfield, Pennsylvania and joined the Ark Animal Hospital team in early 1997.
Feline medicine is one of Dr. Hollenbach's favorite parts of her animal care career—interpreting cats' personalities can be quite a challenge! She also enjoys caring for older pets and helping to formulate appropriate treatment plans.
Dr. Hollenbach and her husband have two sons, Ricky and Jonathan. The family shares their home with two cats, Rusty and Stripes, as well as a dog named Kylie who is a Hurricane Katrina rescue.
When she has time between work and family, Dr. Hollenbach enjoys scrapbooking, traveling, and attending Taekwondo competitions to watch her husband and sons compete.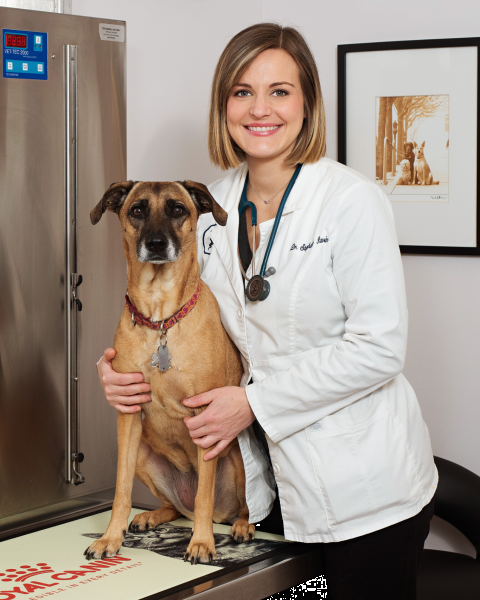 Dr. Stephanie Ravin

Associate Veterinarian
Dr. Stephanie Raven grew up right here in Bucks County, Pennsylvania in Richboro. She attended the University of Pittsburgh for her undergraduate degree. Upon graduation in 2010, she attended her first year of veterinary school in the Caribbean at the American University of Antigua, College of Veterinary Medicine and Biological Sciences. She absolutely loved living in the warmth of the Caribbean for a year. That is also where she met her husband, Dr. John Sampson!
After a year in Antigua, Dr. Ravin was able to transfer to the University of Edinburgh, Royal (Dick) School of Veterinary Studies in Edinburgh, Scotland, where she finished the remaining three years of her veterinary degree. After graduation, she worked in Rochester, NY for 3 years, honing her skills in a busy, small animal practice.
Dr. Ravin thoroughly enjoys meeting new people, and their beloved pets. She also enjoys building relationships with pet owners through trust and education. She has a knack and love for dental surgery, maybe because both of her parents are dentists! She also enjoys soft tissue surgery and cardiology.
Dr's Ravin and Sampson share their home with their Coconut Retriever, Elle, whom they adopted while living in Antigua. They also have two orange cats, Daryl and Doodle, as well as two chinchillas, Pikachu and Squirtle. They cant forget about their two beta fish, Spongebob and Patrick! Dr's Ravin and Sampson have welcomed their new baby girl Stirling in March 2018!
Dr. John Sampson

Associate Veterinarian
Dr. John Sampson grew up in Fargo, North Dakota. He attended the University of North Dakota (Go Sioux!) for his undergraduate degree. Upon graduation in 2008, he became a zoo keeper at the International Exotic Animal Sanctuary in Boyd, TX, and later on the Red River Valley Zoo in Fargo. He attended his first year of veterinary school in the Caribbean at the America University of Antigua, College of Veterinary Medicine and Biological Sciences. He loved having the beach right outside his window, but also really missed the four seasons back home. This is also where he met his wife, Dr. Stephanie Ravin!
After a year in Antigua, Dr. Sampson was able to transfer to the University of Edinburgh, Royal (Dick) School of Veterinary Studies in Edinburgh, Scotland, where he finished the remaining three years of his veterinary degree. During those three years he and his wife traveled as much as possible before starting work.
Dr. Sampson was matched to a rotating internship in Rochester, NY. After the internship he joined the team at Greece Animal Hospital in Rochester as an associate veterinarian. he was there for two years before moving closer to family here in Bucks County.
While Dr. Sampson became a veterinarian due to his love for animals, he also really enjoys developing long lasting relationships with their owners! His interests in veterinary medicine include radiology and surgery.
Dr's Ravin and Sampson share their home with their Coconut Retriever, Ellie, whom they adopted while living in Antigua. They also have two orange cats, Daryl and Doodle, as well as two chinchillas. Pikachu and Squirtle. They can's forget about their two beta fish, Spongebob, and Patrick! Dr's Ravin and Sampson have welcomed their first baby girl Stirling in March 2018!
Dr. Emily Seymour

Associate Veterinarian
Dr. Emily Seymour grew up in Plymouth Meeting, PA and attended the University of Pennsylvania for veterinary school. She worked for several years in San Jose, California followed by three years at a non-profit clinic in northeast Philadelphia before joining the Ark team! Her clinical interests include internal medicine, preventive care and wildlife medicine.
In her spare time, she enjoys hiking, birding, gardening and playing chess. She and her husband reside in Philadelphia and share their home with numerous animal "kids". She speaks both English and Spanish.
Dr. Susan Speak

Associate Veterinarian
Dr. Speak is a local to our area growing up in Blue Bell and currently living in Quakertown. Her undergraduate years were split between University of Colorado at Boulder and Drexel University where she obtained diverse experience from working with wildlife in Colorado to helping dogs, cats and exotic animals in the emergency room at Penn Vet.
She attended veterinary school at The Ohio State University where she was the president of the Behavior Club and Dermatology Club. For the clubs, she organized a lecture by Dr. Grandin, a pioneer in animal welfare and subject of the HBO documentary, Temple Grandin.
Upon graduating vet school, she worked in Bethlehem, PA where she was mentored in avian and exotic medicine and surgery. She truly enjoys working with all creatures big and small and practices with the motto: cure some, treat many, and comfort all. She specifically enjoys dermatology, gastrointestinal conditions, and surgery.
She is certified in medical acupuncture and will perform treatments on any pet you bring her way, including exotics and birds. Her goal is to become a fully integrative doctor who can offer a multitude of treatment options for ailing pets, in addition to conventional therapies.
When not in the clinic, Dr. Speak can be found in the garden or on the slopes skiing. She is also an avid music fan and enjoys going to concerts with her husband Ryan and friends. She shares her home with her two cats – Mowzy and Mermen McDermitt – three guineas pigs – Piggles, Wiggles, and Sweet D, and a rabbit named Baloo. They also plan to get a dog as well as farm animals once the cards fall in the right place.
Administration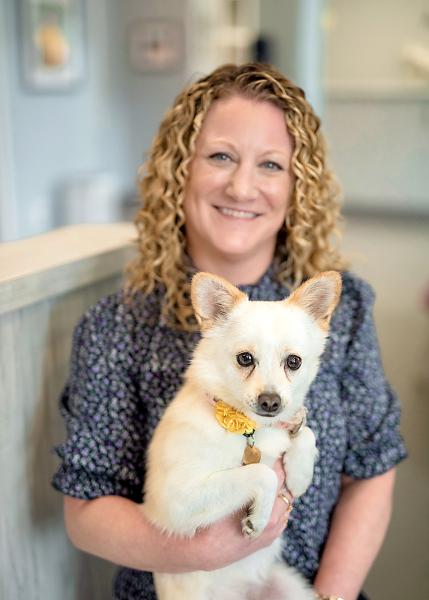 Lauren

Hospital Administrator
Lauren grew up in a veterinary hospital—her family owns the Ark Animal Hospital business. She couldn't help but fall in love with the veterinary profession, and now she serves as the Practice Manager!
Lauren was born in Boston, Massachusetts. When she was old enough, she started working in her parents' vet hospitals, then worked as a receptionist through high school. After graduating, Lauren attended Temple University to study tourism and hospitality management, securing a business minor at the same time. Upon receiving her degree, Lauren took on even more responsibilities by becoming the Practice Manager.
Interacting with pet owners and building lasting relationships is Lauren's favorite part of her day. She's extremely proud of the amount of compassion in her family's business; in fact, she and her coworkers strive to treat every patient and client as a member of their own family!
Lauren has a few pets of her own at home. Layla is a Great Dane/Labrador mix, and Phoebe is a Chihuahua/dachshund mix who defies her small stature with her huge personality. Both dogs can often be seen roaming the clinic corridors and greeting clients.
When she isn't working, Lauren enjoys cooking, traveling, walking her dogs, and spending time with family and friends.
Office Manager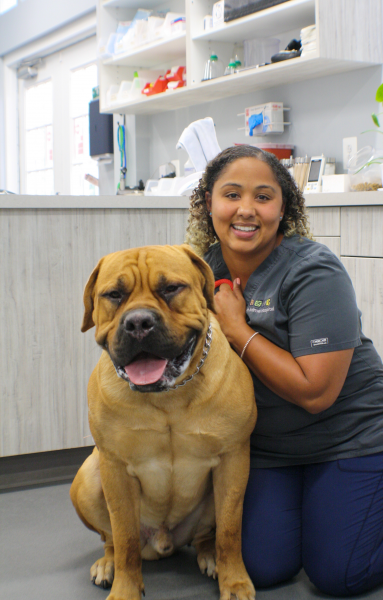 Sequoya

Office Manager
Sequoya was the neighborhood pet sitter while she was growing up, because she just felt natural around pets. Always an animal lover, she had been bringing her own pets to Ark Animal Hospital since 1992. When the opportunity arose to work here, she jumped at the chance!
Sequoya grew up in Lansdale, Pennsylvania. She used to work in a human hospital, and managed to secure a few part-time hours in a veterinary practice when she could. As soon as a full-time position was offered to her, she readily accepted the chance to work with animals every day.
Sequoya and her husband, Kerwin, have three daughters named Sienna, Ruby, and Rosalie who are also animal lovers. The family shares their home three dogs named Carmela, Nina, and Punkie.
Sequoya's personal interests include home decorating, visiting thrift stores, singing karaoke, and cooking for her family.
Client Care Representatives
Chelsea

Client Care Representative
Chelsea grew up with plenty of cats and dogs, and always knew in her gut that she was meant for a career in animal care. She was the neighborhood pet sitter and volunteered at the Pennsylvania SPCA for a few years.
Born in Philadelphia, Chelsea was raised in Warminster with her parents and two brothers. After working in customer service for six years, she decided to pursue her dreams and graduated from Delaware Valley University with a Bachelor's degree in Small Animal Science. In those short four years, she worked at a local kennel as a receptionist/ kennel technician.
Chelsea feels incredibly fortunate to tend to the needs of pets and animal owner's ever day. Her favorite part of the work day is talking with pet owners and witnessing the fascinating bonds between humans and animals.
At hone, Chelsea has two dogs: Charlie and Roxy, and two cats: Miley and Mickey. In her time away from work Chelsea enjoys hiking, going to the beach, shopping, and spending time with family and friends.
Nicole

Client Care Representative
Nicole has recently moved to this area from Connecticut. Nicole has a Bachelors degree in Communication from Western Connecticut University. Her love of animals lead her to pursue a career in the veterinary field. Nicole has been a veterinary receptionist for over 10 years, and is now doing the same as a part of the Ark Family.
Nicole resides in Chalfont with her husband Colby, and their son. They have a yellow lab named Zoey who loves to play and swim.
In Nicole's spare time she likes to spend time with family and read, garden, and spend time at the beach.
Nicole looks forward to building relationships and getting to know the clients at Ark.
Theresa

Client Care Representative
Theresa's ultimate goal in life is to be happy and to be surrounded by animals. What better way to accomplish that than by working in a veterinary clinic? Theresa gets to come home every day with a smile on her face, because she knows she's made a difference in the lives of pets and their owners.
Theresa was born and raised in Philadelphia. Her career in the animal world started when she got involved in an equine rescue organization while attending school and working part-time. After serving as a dental assistant in human medicine for a period, Theresa decided to pursue her true passion and applied at Ark Animal Hospital. She's happily served here since January of 2013!
Client education is of the utmost importance to Theresa; if she can offer helpful knowledge to a pet owner, she knows she's done her job. She also enjoys spending time with four-legged patients and working alongside her fellow staff members.
Theresa lives with her fiance Dan and their two cats, Meka and Nugget, an Australian shepherd mix named Paisley and a newly rescued border collie puppy named Dosh. She also owns a horse named Marley that she enjoys competing with. Together, Theresa and Dan enjoy spending time outdoors, camping, and rock climbing. You are likely to see Paisley at the front desk here at Ark, happily greeting all of her furry friends!
Terri

Client Care Representative
Terri has always loved being around animals of all kinds. Growing up in NJ, she was the neighborhood pet sitter, and rescued her own first dog as a stray. After a career in restaurant and food service management, she accepted an opportunity to do something she had always wanted to do – work with animals. She accepted a position to manage a boarding and dog day camp facility. Terri learned over the years a great deal about animal care and dog behavior. She feels it is an honor to care for other's fur-kids, and does so as she would care for her own. She loves to build relationships in her community with pet owners, and in gaining their trust that she will always do the right thing in their care.
Terri happily made the leap to Ark Animal Hospital, and in continuing her passion for working in the world of animals.
Terri lives with her husband, Chuck, and three fur-kids – Enya, a Siberian Husky; Wednesday, a Miniature Pincer; Dr. Fuzz, a wire haired Yorkshire Terrier. They also share their home with two Leopard Gecko's, Lexi and Lizzy.
When not surrounded by animals, Terri believes in giving-back and community involvement. Previously a Councilwoman, she is currently involved in many groups, committees and animal rescues.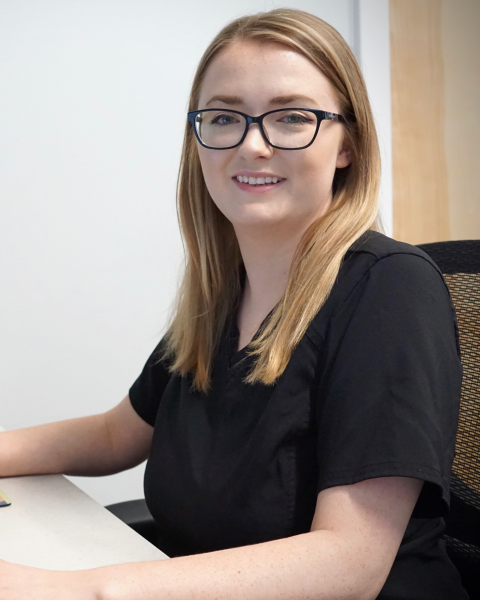 Chelsea C

Client Care Representative
Since Chelsea was a child, she always wanted to work closely with animals. When she was 16 years old, she spent the summer volunteering at the YSA Nature Center in Slatington, Pennsylvania. She knew she was destined to work in this field ever since!
She hopes to return to school next year and earn her degree in Business. In five years, she see's herself living in Bushkill, Pennsylvania with her fiance. They hope to open a kennel on their own property.
In Chelsea's free time, her and her finace like to go to flea markets, hiking, camping, and traveling.
Scott C

Client Care Representative
As a kid, Scott was always surrounded by animals: dogs, fish, hamsters, parakeets, snakes, lizards, and mice. Scott read voraciously every copy of Zoobooks he could get his hands on and started philanthropic endeavors in elementary school by sending money every few months to Defenders of Wildlife in order to save the wolves, his favorite animal.
After spending a few years working in human medicine, Scott decided to jump into animal health, for caring for animals has always been his passion. He loves getting to know the clients and their pets, and enjoys hearing stories about how the animals behave at home.
Megan

Client Care Representative
Although she'd always been an animal lover, Megan never considered working in the veterinary field until she brought her new puppy, Tucker, into the Ark Animal Hospital of Chalfont. When she saw how clean the clinic was and how enthusiastic and vibrant the employees were, she decided to ask if the hospital was hiring!
Born in Philadelphia, Megan was raised in Holland, Pennsylvania with her parents, a sister, and a brother. She started bringing her own pets to Ark Animal Hospital in 2005.
Watching a puppy or kitten grow up over the years is one of Megan's favorite things that she gets to do around the clinic. She's also fond of getting to know clientele and their pets on a personal level.
Megan lives in Montgomery Township with her husband Tim and their two boys, Trevor and Derek.
Outside of work, Megan spends a lot of time on her sons' soccer fields, baseball diamonds, and basketball courts. She also enjoys volunteering at the boys' school, trying out new restaurants, shopping, and spending time with family and friends.
Veterinary Technicians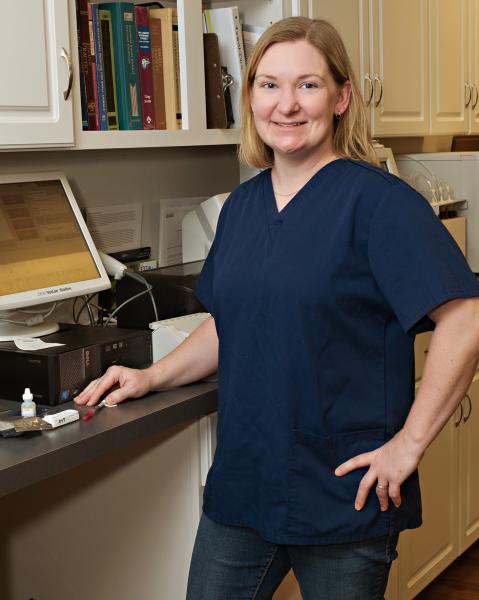 Alison

Veterinary Technician
Alison always had a strong interest in medicine and decided to pursue human nursing immediately after high school. After incidentally learning about her college's Veterinary Technician program, Alison realized she'd been missing something. The desire to combine her medical interests with her passion for animals won her over, and she signed up!
Alison grew up in southern New Jersey with her parents and three younger brothers. After acquiring her Associate's degree in Veterinary Technology in her home state, she volunteered at a New York zoo to gain experience with exotic animals. Alison then decided to further her education at Delaware Valley College, earning her Bachelor's degree in small animal science. After being referred to Ark Animal Hospital by friends and previous coworkers, Alison started at the Chalfont location in the fall of 2010. She is currently working in the Souderton office.
Alison's husband Jerry works as a flight paramedic for the University of Pennsylvania. They have a young daughter who aspires to be a singer, writer, or artist, and a son who dreams of becoming an astronaut. Several pets round out the family: Rosie a 1 year old boxer mix, Petunia is a calico love bug, Samantha the cat rules the household, and AJ is a relaxed grey cat who loves eating.
Outside of her work in veterinary medicine, Alison enjoys photography, reading, making crafts, painting, and spending time on her parents' alpaca farm.
Chris

Certified Veterinary Technician
Chris graduated from Northampton County Community College in 2000 with a degree in Veterinary Technology. In the summer of 2011, she joined the Ark Animal Hospital team. As a tech, she loves the interaction with clients and their pets assisting in their health care needs.
At home, Chris and Jeff live with their three sons, a black Lab named Toby, and an "itty bitty pitty" (pit bull) named Payton. As a family, they spend a lot of time outdoors camping, fishing, or riding ATV's.
Kelly

Veterinary Technician
Kelly began her career at a local kennel at the age of 16, which is where she quickly found her deep passion for the care of animals. After 5 years at the kennel, she joined the Ark team in the fall of 2014. Kelly's favorite part of work is comforting and helping every animal that comes through the door, client education, and learning something new every day.
Kelly is a graduate of Bucks County Community College. On her time off she enjoys spending time with her own furry friend, Comet, a domestic short hair, listening to music and being outside in the sun!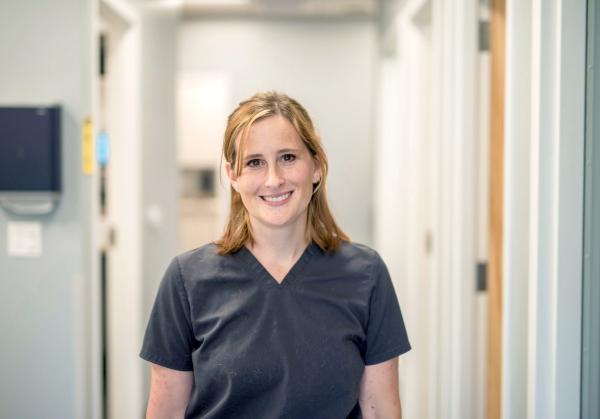 Kim, CVT

Certified Veterinary Technician
At first, Kim didn't want to work in a veterinary setting with domestic animals—she wanted to spend time with exotic creatures. Once she began caring for small animals at a local pet store, though, Kim realized what she really wanted to do: help any animal in need! Immediately, Kim began her journey toward working in an animal hospital and never looked back.
Kim is originally from Newtown, Pennsylvania. After earning a Bachelor's degree in psychobiology and working in the veterinary field for a short period, she returned to school at Manor College to receive her veterinary technician's certification.
Drawing blood, interacting with snakes, birds, and reptiles, and helping to train the staff on technical skills are a few of Kim's favorite things to do around the clinic. She also loves continuing her own education by learning something new constantly.
At home, Kim lives with two Chihuahuas, Pooh Bear and Scampy, as well as three cats named Monty, Mateo and Moo.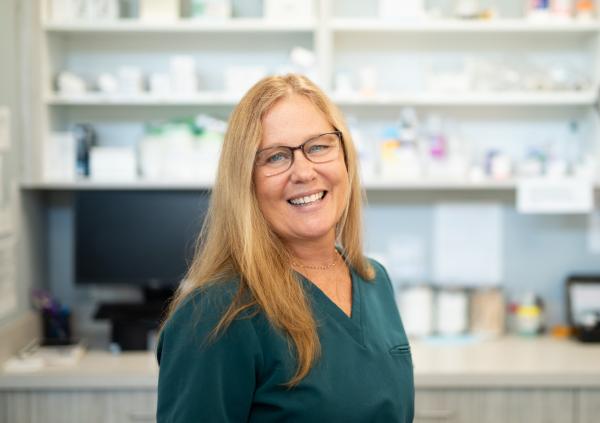 Lori H

Veterinary Technician
Lori has been working in the veterinary industry since 1985. In October of 1996, she joined the Ark Animal Hospital team, and has been here ever since!
Lori is a graduate of Temple University. She has two kids, Dean and Margo, as well as three dogs named Dottie, Daisy, and Chooch and a cat named Dash.
In her free time, Lori enjoys spending time at the beach, hiking, practicing yoga, listening to music, and reading.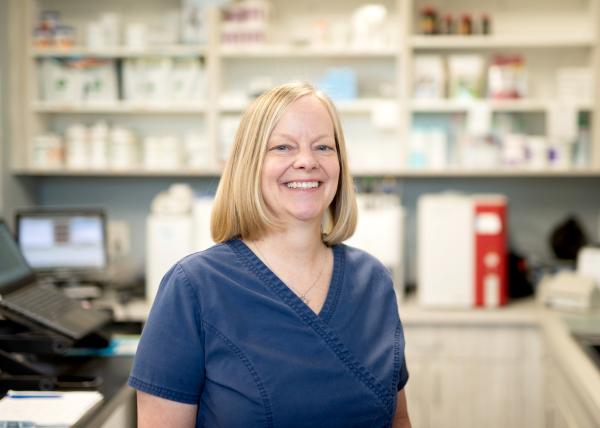 Lori V

Certified Veterinary Technician
Ever since she can remember, Lori has had a desire to work with animals. Once she discovered that she could help both pets and people through a career in the veterinary field, her mind was made up!
Lori is a Pennsylvania native. After working for a local kennel, she attended Harcum Junior College to receive her Associate's degree from the Veterinary Technician program. She joined the Ark Animal Hospital team in 2006.
At home, Lori and her two sons share their home with a pug/Chihuahua mix named Zacchaeus. When she isn't at work or spending time with family, Lori enjoys weight lifting and walking with her dog.
Veterinary Assistants
Amy

Veterinary Assistant
Amy grew up in Blue Bell and has been working in a veterinary setting since 2006. She is a graduate of Delaware Valley University, with a degree in Small Animal Science. She joined the Ark Animal Hospital team in July of 2017.
Amy loves all animals, but cats are her favorite. She enjoys raising bottle feeder kittens and fostering animals. She has five cats: Smokey, Mommy, Cam, Cupcake, and Fabio. The last three are brothers who she rescued from living outdoors in Norristown.
In her free time, Amy likes to go running, play board games with friends, watch tv, and play with her cats. She also likes travel, and would one day like to go to Madagascar to see the exotic wildlife.
Jasmine

Veterinary Assistant
Jasmine was born and raised in Long Island, New York. She moved to Pennsylvania in June of 2019 with her husband Justin, and their Rottweiler, Raven. Jasmine has had many years of experience in working with animals including horses, which she cared for over a period of six years. Upon moving to PA, Jasmine continued her career in caring for animals and came to work at Ark Animal Hospital. She has a strong interest in learning and understanding animal behavior, and enjoy's grooming pets. Jasmine is also an experienced pet-sitter and feel's it's an honor to care for pets while their owners are away.
During Jasmine's free-time, she enjoys several outdoor activities including trail walking, and paddle boarding with Justin and Raven.
Karina

Veterinary Assistant
Karina attended Delaware Valley College for small animal science until she fell into her passion for grooming. After 4 years of making puppies pretty Karina decided to go back into the medical field. She combines her skills for prettifying pooches with her medical background to help our patients leave feeling happy and healthy, and cute to boot! She is now continuing her education at Penn Foster and lives with two lovable pit bulls named Porkroll and Vick.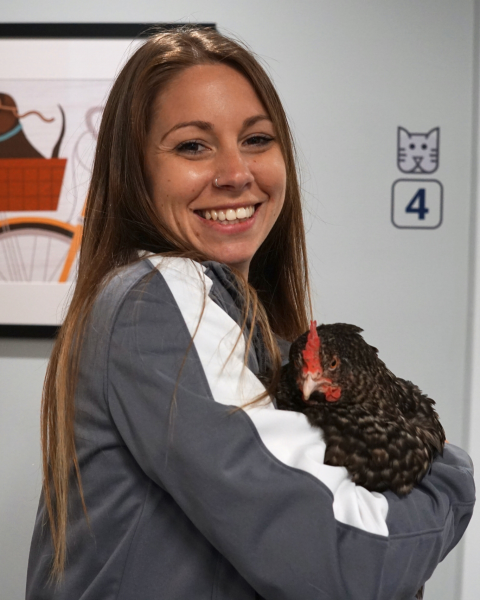 Laura

Veterinary Assistant
Having spent the majority of her life in Doylestown, PA, Laura's early life has deep roots in the veterinary field. At the small farm on which she was raised; she had plenty of exposure to animals including chickens, ducks, and horses/ponies her family owned. For the majority of her youth years, Laura competed in the A-circuit small pony hunters, winning 1st place at numerous events. Along with her farm animals, she has also owned many dogs, from a Great Dane to a chihuahua, as well as cats, a bunny, and even a cockatoo. Laura's love for animals has no boundaries.
Aside from her part-time jobs handling and caring for horses, Laura first entered the small animal veterinary field in 2012. To become more proficient and develp more valuable potential, she earned her Veterinary Assistant certification in 2013. Eventually determination to progress her veterinary career led her to accepting a full-time position at Ark Animal Hospital.
Since the day she began her journey at Ark, Laura has enjoyed every minute spent at the hospital. She loves tending to the diverse needs of her patients and the unpredictability of what the next day has waiting. Lucky for her, the job requires a very hands-on involvement, so she gets to handle all the animals she cares for. Soon after joining the team, she experienced an incredible revival of her enthusiasm for veterinary care. She is thankful to be a part of such a supportive team and is delightfully optimistic and excited for her future with Ark Animal Hospital.
Morgan

Veterinary Assistant
While born in Feasterville, Morgan and her family realized they wanted more of a relaxed lifestyle. They came to the decision that they wanted to move to Perkasie. Morgan and her family have lived there for the last 18 years. She studied at Pennridge School District. Mogan's career with animals started as a kennel attendant at the age of 15 years old. Shortly after starting that position, she realized her love of animals and of wanting to help them. Morgan has loved her career in veterinary medicine, and feels she has been the most happy since starting her career at Ark Animal Hospital. Morgan feels she is at her "second home" and with her family here at Ark.
Morgan has two dogs (Rusty and Jameson), 2 goats (Bubbles and Trixie), and four ducks (Goose, Tater, Tyrone, and Mr. Quakers). In her free time, she likes to do special effects makeup, workout, and to spend time with friends and family.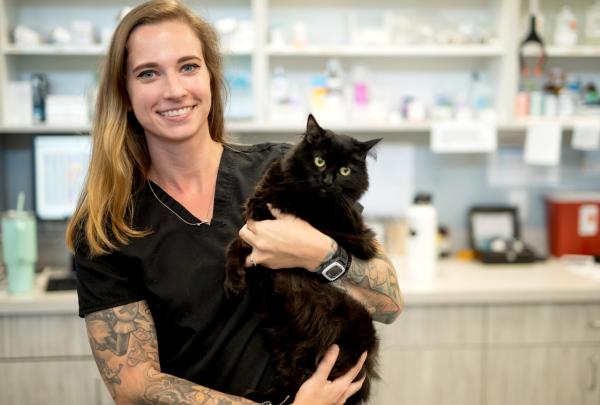 Nikki

Veterinary Assistant
Growing up in North Wales Pennsylvania, Nikki has always been fond of animals but was never sure what she wanted as a career. She graduated from Montgomery County Community College with an Associate's Degree in Liberal Arts. After working for different customer service companies, Nikki decided that working with animals is best suited for her career. She started work at a kennel then found her way to Ark, so she can expand her experience with all kinds of species.
Nikki loves working at Ark because she is able to be around not only the furry patients, but the scaly ones too! Bloodwork and radiology are some of her favorite interests because those simple diagnostics can reveal so much science and knowledge. Nikki loves being with her fellow co-workers and is amazed every day on how much knowledge they have obtained just by working at Ark. This was the motivation for Nikki to become a Veterinary Technician.
Outside of work Nikki enjoys yoga, traveling, and her pets: Tyson a beagle mix, Kitty the tuxedo cat, and her bearded dragons Argorok and Reptar.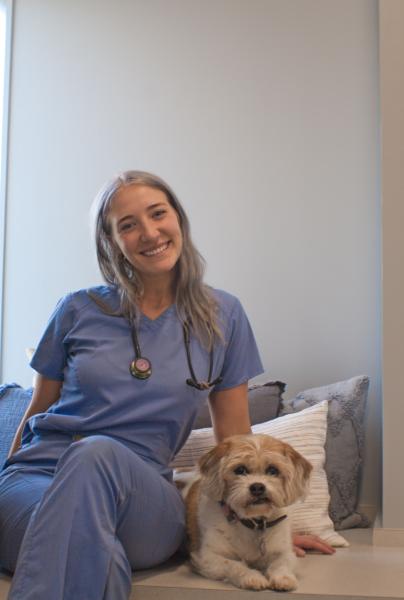 Samantha

Veterinary Assistant
Since she was a child, Samantha has been interested in the veterinary medical field. She was the neighborhood animal sitter, and cared for everything from dogs and cats to reptiles and parrots! Samantha always knew a career in animal care was the choice for her.
Born on Long Island, New York, Samantha found her way to Ark Animal Hospital after a client of the clinic recommended it to her for shadowing purposes. As Samantha learned more and more, she was officially hired. She's currently a full-time student at Montgomery County Community College, and plans to attend Temple University in the future to study biology!
Working in the lab is one of Samantha's favorite parts of her job—using the microscope to view different types of bacteria and blood cells is fascinating to her. She also likes being able to learn something new every day in the dynamic clinic environment.
At home, Samantha has several pets of her own: Tank, a stubborn but loving English bulldog, Gorgo, a large Italian Mastiff, Rosie, a rescued boxer mix, and Hendrix the beta fish.
Tauni

Veterinary Assistant
Growing up overseas in Southeast Asia exposed Tauni to experiences with a variety of local species, from primates to elephants. As a child, she loved helping her mom rehabilitate crickets with broken legs, frogs that had fallen into swimming pools, and even worms lost on hot sidewalks. It's easy to say that she's had an interest in helping animals since very early on.
Tauni went to Bryn Mawr College and received a B.A. in Psychology with a double minor in Geology and Environmental Science. A summer internship turned into a full time job at the Philadelphia Zoo working with their program animals. This experience confirmed that a career involving animals was how she wanted to spend her life. She knew that she eventually wanted to focus on learning and growing in the veterinary field and ended up at Ark!
Outside of work, some of Tauni's interests include hiking, playing bass, going to concerts, and spending time with her two cats Mony and Howl.
Tracy

Veterinary Assistant
Growing up in Ardsley, Pennsylvania, Tracy was always surrounded by her family pets. Ever since she can remember, she's gotten joy from helping an injured or sick animal and nurturing it back to health. Now, she gets to do that regularly as one of the Ark Animal Hospital of Chalfont's Veterinary Technicians!
After receiving her Bachelor's degree in small animal medicine from Delaware Valley College in 1998, Tracy took a job at the Montgomery County SPCA in Conshohocken, Pennsylvania. It was there that she met Dr. Barbara Smith, owner of the Ark Animal Hospital company. After taking time off to be a full-time mother, Tracy decided to get back into the workforce; she contacted Dr. Smith, who happened to be hiring veterinary technicians! Tracy has worked here at the clinic since early 2003.
For Tracy, educating pet owners about proper animal care is one of the most rewarding things she does. She's also fond of watching puppies grow up and helping to provide care tips throughout their lives.
Tracy and her husband, Jeff, have two young boys: Connor and Brian. Their family currently shares their home with an elderly cat named Simon; and a guinea pig with an enormous personality.
Outside of work, Tracy is an avid bicyclist. In 2013, she rode 200 miles from Philadelphia to Washington, D.C. to raise money for the Young Survival Coalition. She rode even farther in 2014, trekking a total of 250 miles from Frazer, Pennsylvania to Assateague Island!
Kennel Assistant
Jay

Kennel Supervisor
Jay is a Bucks County native who spent his most impressionable childhood years on a farm in Richboro with a Rough Collie as a best friend. In the years to come, he would find himself always with a furry friend by his side.
While working in the food industry and in customer service, Jay knew that it wasn't too late to follow his passion and to join the Ark team.
Jay currently lives with his partner, cat Enzo, and dog Maddie in Chalfont. When Jay has free time, he enjoys the outdoors, music, bicycling, and spending time in Maine at his cottage.